Face Shields against Coronavirus at the Brooklyn Navy Yard
NEW YORK (TURKISH JOURNAL) – H. Nazan Işık- Mayor de Blasio visited the Brooklyn Navy Yard where Bednark Studio Inc partnered with Duggal Visual Solutions and other Navy Yard manufacturers to make face shields.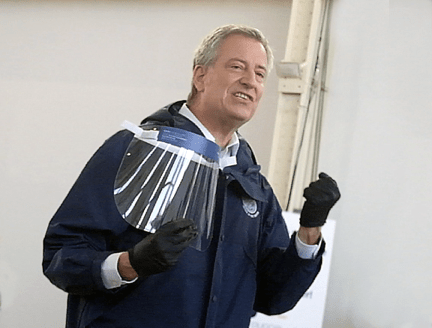 Holding a face shield "Look at this face mask, how amusing it is. These companies did not make this product. They put them together," he said.
"Four days ago this warehouse did not exist, it has only been opened yesterday," Mayor de Blasio called it "wartime factory." This is what people had to do in battle, in wars all over this world, and supplies would be coming from somewhere else and they would create their own. This is what is happening in Brooklyn.
Michael Bednark, of Bednark Studios on Friday came up with an idea to make face shields for health care workers and first responders. And Saturday the first design was ready.  On Sunday he met with the Department of Health, Sunday evening the plan was approved by the Health Department with an order of 120.000 face shields. On Monday Michael Bednark and Michael Duggal, of Duggal Greenhouse teamed up to produce face shields for health care workers, first responders against coronavirus.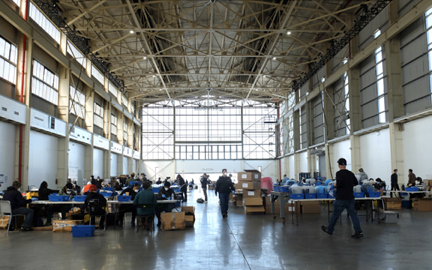 Michael Duggal: "Six days ago we were producing graphic displays and printing. By Saturday first shipment goes out, 50.000 units. And by Tuesday (all) 120.000 ….
Mayor de Blasio interrupted: "Six days? Six days ago none of these existed, not even the idea. They reached out the City. The Department of Health like the design, they found the materials, called back their workers, open up the space, and they create a war time factory "
A face shield is basically a piece of clear plastic, a piece of foam, a piece of elastic and a label he reads " Warning: Use only as a face shield against splashing liquids.  Read package warning fully before use. Made in Brooklyn, NY"