NEW YORK – H. Nazan Işık– Monday, Oct 8 was a comfortable day in New York City for a parade, not so hot, not so cold, not very sunny, not rainy. Just a little misty day it was. And, it was the day to celebrate, enjoy the 74th annual Columbus Day Parade.
Remembering the previous parades, I expected a fun day, with lots of floats, costumes, music, performances, most importantly energy, and huge crowds to watch the parade on the parade's route from 43rd Street up to 72nd Street on Fifth Avenue.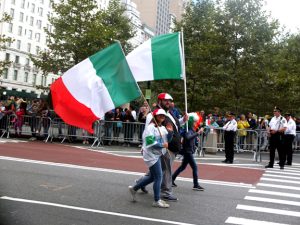 Well, I was wrong this year.  Even on Fifth Avenue and 59th Street it was a very thin crowd.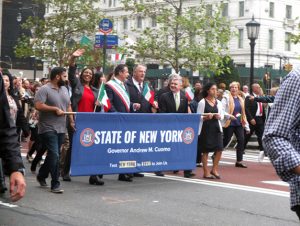 First Governor Andrew Cuomo marched, with him was Public Advocate Letitia James. It looked like they were more crowded than the spectators.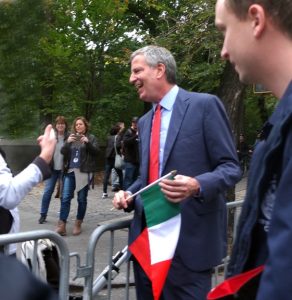 Mayor Bill de Blasio paraded after. He stopped and let someone, who was standing on the almost empty pavement, take a selfie with him.
I must say I was surprised not to see a very 'enthusiastic' crowd that day.
On Thursday, Oct. 4, Mr. de Blasio and First Lady McCray hosted the Italian Heritage Reception at Gracie Mansion. First Lady came to the platform, delivered her remarks and introduced Mayor de Blasio to guests. As always they kissed.
He talked about Italian music, language, food, and said, "The language, how poetic it is, no matter what you say. And the Italian Food… we won, everyone in this country eats Italian food."
He was right. It was a very rich reception. 
At the entrance, there was a temporary oven for the reception to offer freshly made pizza by a pizza parlour.
And, in the tent and garden guests enjoyed bountiful buffets of food set up everywhere. And of course, wine and beer tables as well. 
It was crowded, and everyone was talking about 'being a proud Italian' at the reception. I thought the parade would be a mirror of it with the overwhelming crowd. But I was wrong!
(Photos: © H. Nazan Işık / NKENdiKEN)