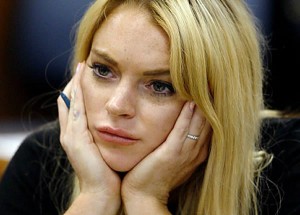 HOLLYWOOD — Actress Lindsay Lohan's probation could be threatened by an allegation that she hit a person while driving away from a club in Hollywood, and then left the scene.
The incident happened just after midnight as Lohan was leaving the Sayers Club in the 6500 block of Hollywood Boulevard.
Lohan was driving out of the parking lot when she was swarmed by paparazzi near the Hookah Lounge.
The 25-year-old was attempting to make a U-turn when she grazed the leg of a man, reportedly the manager of the Hookah Lounge.
The man called police, who took down information. They did not make an official report, because at that point the man was deemed not to be injured.
TMZ reports that the man didn't know who Lohan was at first, and told paparazzi and police that he didn't need medical attention.
A short time later, however, he began complaining that he was injured.
He reportedly went to the emergency room, and says he plans to press charges, according to TMZ.
The LAPD says it will investigate if the man files a police report.
The department does not consider the accident a hit-and-run at this time, according to LAPD spokeswoman Norma Eisenman.
Officers did not contact Lohan, Eisenman said.
A spokesman for Lohan, Steve Honig, told the L.A. Times, "We we are not commenting until we have gathered all the facts."
A hit-and-run would be a violation of Lohan's probation, which started five years ago, after two drunk driving convictions.
She should have finished two years ago, but it was extended after several probation violations, including missed counseling sessions, failed drug and alcohol tests and a shoplifting conviction.
As of late, Lohan has met all the terms of her probation, including court-ordered community service and counseling sessions.
She received a positive probation report last month, and has only one more probation check-up left, scheduled for March 19.